Summary:
Studs and young studs get into some serious arse pounding and group sex. Watch Eric get well used and abused by naughty bad lad men. Includes spanking and dungeon sex!
Description / Review:
The star of this naughty epic has to be Erik Finnegan with his slightly off centre parting and floppy dirty blond curtains, which are neatly, arranged helping to show off his so handsome puppy dog face and German blue eyes. Eric has a great smooth slim toned body!
It all kicks off with Erik at the train station who bumps into Patrik Ekberg who has a slightly bigger build to that of Erik and is much blonder, his hair is cut shorter and he has a longer face but to be honest, he is just as sexy looking. Both Eric and Patrick end up getting it on together on a bed. Patrick gives Eric one hell of man fuck, deep and hard right up man pussy.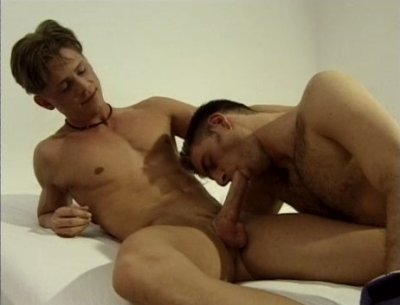 For the rest of the film it's down hill for our Puppy stud wet dream Eric, he gets well used by men that come across him. Both Eric and his new found lover Patrick decide to go to a club (strobe light warning for those with epilepsy). It's a sex club with dance music and there are guys all over dancing and having sex. Eric looks sexy dancing in just his black undies. Eventually Eric decides to go to the toilet and two hard looking smooth young studs follow him, both are wearing jeans, short jackets, white tea shirts and they both have short hair and one is darker skinned than the other. After Eric takes a piss the two men stop Eric from leaving the toilet and force him to have sex with both of them. The two guys treat Eric quite roughly making him moan with pain, as they ram their cocks into his mouth and arse hole at the same time. Once they have finished with Eric and squirted on him they leave him on the floor sobbing.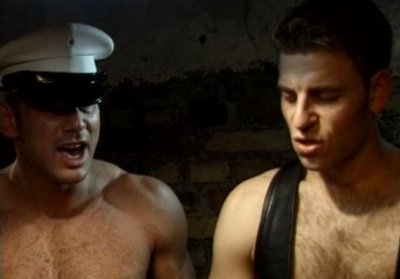 There's a dungeon type seen between two smoother looking guys and two rougher hairy slightly older looking guys, the two younger ones have a lighter stud build, the slightly older ones are a little heavier built, One guy gets whipped and then gets put in a sling!
Once Eric leaves the toilet he catches Patrik in the club having sex with a Skin head smooth stud and walks out of the club upset. Eric takes a walk into the night and a blond man in a suit comes up to him. The man offers him money turning him into a cheap slut rent boy. The same man takes him to bed and then the next morning handcuffs him, puts a dog collar around his neck and puts a lead on him, taking him to a old disused factory building where another cute young stud is also wearing a dog collar and lead. Both are forced to have sex with a group of men sat waiting with their cocks out. Both Eric and his other smooth slave end up with sperm squirted all over them and left alone holding each other shaking.
Patrik ends up finding Eric just as he is thinks of ending it all!
The sex is quite rough and there is a mixture of studs and young studs mostly uncut. Some great fucking and camera work make this an excellent horny film for anybody into real men getting it on. Eric what a hot guy he is, it's so horny watching him get well used!