Summary:
Craftsmen work hard and they love to have a break. And for lunch they don't just have a beer and a sandwich - they're also going for a colleague.
Description/ Review:
These Cazzo hunks work hard and love to have a Fuck Break. For lunch they don't just have a beer and a sandwich, they like to feast on their colleagues.
Mark Vadezi spots a fat dildo in the bag of his pal Ruben Fux. Of course Ruben doesn't care at all. He jams the toy onto a vice and sits down on it. Mark isn't impressed at all, and without effort he shoves an even larger toy into his ass.
Hunky Master Michel Delaunay also wants his piece of the cake and he fucks both his trainees one after another. Edward Fox takes a ride on muscleman Luca Borromeo in the men's workshop. Luca likes it a lot and longs for more so he goes into the streets and snatches up Toby, a young sportsman. After taking two XL Cocks on one afternoon Luca really earns himself a relaxed evening.
Greedy Mark Furetto isn't in need of job training. Grunting like a pig he gets rammed by Lucas Knowles. It's pretty obvious that they are pros. Stefan Colby gets kidnapped by wild sex beast Peto Coast. He forces him into the trunk of his car and as soon as he opens it again, Stefan gets forced to suck Peto's big stick. Mercilessly Peto nails helpless Stefan against his car and stuffs every inch of his cock into his butt. Afterwards he stuffs him back into his trunk maybe he can use him once more.
Apart from classic Cazzo stallions like Peto Coast, Michel Delaunay and Lucas Knowles, you will find a lot of fresh flesh in Cazzo's Fuck Break - like beefy Italian stud Luca Borromeo, delicious Latino Toby Park and horse hung Ruben Fux!

---

Beschreibung:
Handwerker arbeiten hart und machen gerne Pause; Cazzo Film 2009, 790 Minuten

Mit: Peto Cost, Lukas Knowles, Michel Delaunay, Toby Park, Ruben Fux, Mark Furetto u.a.

Handwerker arbeiten hart und machen gerne Pause. Neben Bier und Stulle ziehen sie sich gern noch einen Kollege rein.

Mark (Mark Vadezi) entdeckt einen fetten Dildo in der Tasche von Kumpel Ruben (Ruben Fux). Dem ist das gar nicht peinlich. Er klemmt das Teil in den Schraubstock und setzt sich drauf. Mark ist nicht beeindruckt: Er lässt ein noch größeres Kaliber mühelos verschwinden. Der Meister (Michel Delaunay) will auch noch ran und nimmt die beiden Lehrlinge nacheinander durch.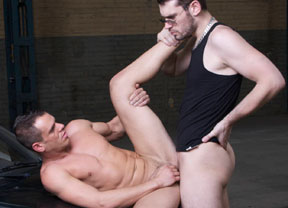 Edward (Edward Fox) reitet Muskelpaket Luca (Luca Borromeo) in der Bauarbeiter Hütte ein. Dem gefällt das so gut, dass er sich kurz darauf noch den knackigen Sportler Toby von der Straße schnappt. Nach zweimal XXL an einem Tag ist Luca reif für den Feierabend.

Der gierige Mark (Mark Furetto) braucht keine Einarbeitung mehr. Grunzend lässt er sich von Lucas (Lucas Knowles) rammen. Hier sind Profis am Werk. Stefan (Stefan Colby) wird von Sexbestie Peto Coast in seinem Auto gekapert und in den Kofferraum verfrachtet. Kaum öffnet sich die Klappe wieder, da hat Stefan schon einen Prügel im Maul. Peto nagelt den armen Stefan gnadenlos gegen die Karosserie - bevor er ihn wieder zurück in den Kofferraum stopft.

Neben bewährten Cazzo Hengsten wie Peto Coast (Deep, Pizza Cazzone) , Michel Delaunay (Fanatics) und Lucas Knowles (Dot Cum) gibt's in Fuck Break viele frische Porno Talente zu sehen: den bullige Italiener Luca Borromeo, den Latino Toby Park oder der Germanen Ruben Fux.