Description / Review:
Cum filled guys wander through dark, damp ruins on a search for some meat to fuck. In the shower room of an old factory, bald muscle stud Yenier works over furry Marcello. Showing no mercy, he thrusts his rock-hard rod first down Marcello's throat and then up his hungry butthole. He slams him harder and harder against the wall during a standing fuck, but this little piggy can't be worn down!
Tim gets caught by two security guards, who work him over hard. After fucking him into submission, they shoot their loads all over his face. Cute Ivan is another one who needs two studs at once to bring out the pig in him. Felix watches Anton beat his meat. No sooner has Anton shot his load than he pounces on Felix' tasty bubble butt.
Marcello Bellano (in his Cazzo debut) + Yenier (Notgeil, Desktops)
In the shower room of an old factory, furry Marcello fantasizes about strong, sweaty laborers as he jerks his fat cock. That's right where bald muscle stud Yenier was planning to rub one out too. Yenier discovers Marcello and works him over. Showing no mercy, he thrusts his rock-hard rod down Marcello's throat. This guy needs it rough! Yenier rims out Marcello's ass and Marcello's butthole pushes hungrily towards him. Yenier fucks Marcello while standing up, slamming him harder and harder against the wall. But this little piggy can't be worn down.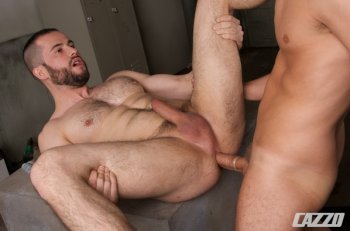 Edward Fox (Sommerloch, Roboter) + Leo (Model Check 2) + Tim (in his Cazzo debut)
Blond stud Tim gets caught poking around by two security guards, who punish him severely. Edward Fox slams his monster cock deep down Tim's throat before turning him over to his scowling co-worker Leo. Poor Tim has to constantly go back and forth between the two guys, who take turns working him over. And they have fun doing it. Finally Edward mounts Tim and rides him ragged. After being fucked into submission, Tim gets a double load, as both men shoot all over his face.
Anton Dickson (in his Cazzo debut) + Felix Barca (Versaut, Keller)
Muscle stud Felix Barca is prowling around a huge dilapidated building. But he's not alone. Blond bearded Anton is so horned up that he has to beat his meat. When he realizes that Felix is watching him, he gets even more turned on--he loves showing off his gorgeous cock. No sooner has Anton shot his load than he's all over Felix, who is more than willing to spread his muscular legs for such a brazen guy. With Felix' cute bubble butt in his face, Anton is ready for another round right away. He gets Felix' hole all wet with his tongue, and then rams his rod right in.
David Novak (Versaut) + Carlo Cox (Berlin Privat 6)
Bear cub David walks in on brawny security guard Carlo Cox jerking off. Carlo chases David through the big old hospital until he finally caches him, then plugs his mouth with his cock and makes him rim out his ass. David goes along with it all obediently, and macho Carlo gives him a thorough fucking.
Paulus Güel (Model Check 2, Keller), T-Bow (Big Business, Nasty Nightmares) + Ian Sevt (in his Cazzo debut)
Cute Ian isn't as innocent as he looks. He's giving his buddy Paulus a blow job and notices that they're being watched by T-Bow. And before you know it, Ian's eagerly servicing them both. Even after they've worked him over, he still hasn't had enough. He sits on Paulus' cock and rides him until they shoot.
Sparks fly between Cazzo stars Dominik Belko and Lucio Saints. The two well-hung guys deliver a cum and passion filled scene that will go down in the annals of porn. Muscle stud Felix Barca picks twink Kennedy Carter up in the subway and takes him home, where they greedily go at it and plug each other's smooth holes. Felix Barca and Kennedy Carter are the Cazzo newcomers of 2010. This is only Felix' second film, but the bearded Spaniard performs with such nonchalance, it's as though he's never done anything else.
Felix and the tattooed Brit Kennedy obviously enjoy fucking each other - regardless of who tops or bottoms. When Kennedy wakes up later, he finds himself naked in a cell. Vicious Felix turns him over to two men in suits Jordan Fox and Wuilliam Wallace who pound Kennedy's ass mercilessly. Both of them are total tops who like to dish it out hard.
Another twink, Sebastien Ritz, falls prey to a basement beast as well. Brodie fucks Sebastien mouth and ass to the max, and the little pig easily takes it all. Brodie finishes him off with a monster dildo. Sebastien is another discovery, a disarmingly handsome bottom with stamina. This was his first time in front of the cameras for Cazzo, but definitely not his last.
Sizzling Latino sex bomb Paulus Güel gladly lets himself be used by leather man Lars Svenson. After a brutal fucking, Paulus shoots all over his own hairy chest. Then he's locked away until the next session.
---

Beschreibung:
Spermastrotzende Kerle irren durch dunkle, feuchten Ruinen auf der Suche nach Fickfleisch. Im Duschraum einer alten Fabrik nimmt sich Muskelglatze Yenier den haarigen Marcello vor. Gnadenlos jagt er ihm seine knallharte Latte erst in den Rachen und dann in die gierige Rosette. Immer fester hämmert er ihn im Stehen gegen die Wand. Doch die Zuchtsau ist nicht kaputt zu kriegen! Tim wird von zwei Wachmännern erwischt und hart rangenommen. Erst völlig plattgefickt bekommt er ihre Ladung in die Fresse.
Auch der süße Ivan braucht gleich zwei Stecher, die ihn zu der Sau machen, die er ist. Anton keult sich einen und wird dabei von Felix beobachtet. Kaum abgerotzt, macht er sich noch über Felix' leckeren Knackarsch her.
Marcello Bellano + Yenier
Im Duschraum einer alten Fabrik denkt der haarige Marcello an kräftige, verschwitze Arbeiter und schrubbbt sich den fetten Dödel. Genau da will sich Muskelglatze Yenier auch einen keulen. Als Yenier Marcello entdeckt, nimmt ihn sich vor. Gnadenlos jagt er seine knallharte Latte in Marcellos Rachen. Dieser Kerl braucht's heftig! Als Yenier ihm den Arsch ausleckt, stülpt sich ihm Marcellos Rosette gierig entgegen. Yenier fickt Marcello im Stehen ab und hämmert ihn dabei immer fester gegen die Wand. Doch diese Zuchtsau ist nicht kaputt zu kriegen.
Marcello Bellano ist ein Newcomer im Gay Porn Business. Yenier hat schon in Notgeil und Desktop gezeigt, dass er mit seiner Latino Latte Kerle ordentlich durchnehmen kann.
Edward Fox + Leo + Tim
Blondi Tim wird von zwei Wachmännern beim Herumstöbern erwischt und schwer bestraft. Edward Fox hämmert ihm seinen Riesenschwanz tief in den Hals, bis er ihn an seinen grimmigen Kollegen Leo weiterreicht. Der arme Tim wechselt unaufhörlich hin und her, wird von beiden Kerlen abwechselnd hart rangenommen. Die haben ihren Spaß dabei. Am Ende steigt Edward auf und reitet Tim in Grund und Boden. Plattgefickt bekommt er die doppelte Ladung ins Gesicht gerotzt.
Gay Porn Star Edward Fox hat schon in Sommerloch, Roboter und Fuck Break seine Lust auf Sex, Sex, Sex vor der Cazzo Kamera gestillt. Leo hat in Modelscherck 2 sein Debut beim schwulen Porno gegeben und Tim ist ein Porno Newcomer bei Cazzo.
Anton Dickson + Felix Barca
Beefcake Felix strolcht durch ein riesiges verfallenes Gebäude. Er ist dort nicht alleine. Der blonde, bärtige Anton ist so aufgegeilt, dass er sich einen keulen muss. Als er bemerkt, dass Felix ihn beobachtet, macht ihn das erst recht scharf. Denn seinen Prachtschwanz führt er gerne vor. Kaum hat Anton abgespritzt, schnappt er sich Felix. Für ein so freches Kerlchen macht Felix gern die kräftigen Beine breit. Mit Felix' süßem Knackarsch vor der Nase kommt Anton schnell wieder auf Touren. Er schlabbert ihm das Loch aus und schiebt seine Rübe hinterher.
Pornstar Anton Dickson ist neu bei Cazzo. Die knackige Cazzo Neuentdeckung Felix Barka hat in Versaut als Pisstalent und in Keller als Partner von Kennedy Carter gezeigt, dass er es knüppelhart im Sack hat.
David Novak + Carlo Cox
Jungbär David stört den bulligen Wachmann Carlo beim wichsen. Carlo jagt ihn dafür durch das riesige alte Krankenhaus, bis er ihn endlich erwischt. Carlo stopft David das Maul und lässt sich dann den Arsch auslecken. David macht brav alles mit und wird von Carlo kerlig durchgefickt.
David Novak durfte seine Kiste schon in Versaut hinhalten. Gay Porn Star Carlo Cox war schon in den Cazzo Pornofilmen: Berlin Privat 6, Dot.Cum und Männerlager zu sehen.
Paulus Güel, T-Bow + Ian Sevt
Der schnuckelige Ian ist nicht so unschuldig, wie er scheint. Als er seinem Kumpel Paulus einen bläst, werden sie von T-Bow beobachtet. Und schon bedient Ian eifrig alle beide. Nachdem sie ihn kräftig rangenommen haben, hat er noch nicht genug. Er steigt auf Paulus' Dödel und reitet ihn ab, bis die Soße spritzt.
Gay Porn Star Paulus Güel stand schon im Model Check 2 und Keller für Cazzo vor der Kamera. T-Bow ist im gay fetish Schocker Nasty Nights als fieser Gangster Boss unterwegs. In Big Business fickt er die schwule Büromatratze Jay. Der knackige Ian ist ein Cazzo Newcomer.